Welcome to Sole Transport Pty Ltd
Providing on-time transport services to South East Queensland
Prime Movers with Walking Floor Trailers
Twin-steer tipper trucks
Eight wheel walking floors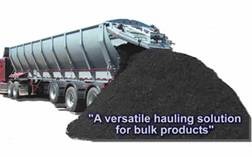 *  Comprehensive Motor, Public Liability and Marine Cargo (transit & accidental damage) Insurance
*  All safety equipment in place
*  Strict maintenance schedule adhered to on all vehicles

At SOLE TRANSPORT PTY LTD our Occupational Health and Safety Policy is based on a belief that the well-being of people employed at work, or people affected by our work, is a priority and must be considered during all work performed on our behalf. People are our most important asset and their health and safety is our greatest responsibility. The public shall be given equal priority to that of our employees.